Revolutionizing Institutional Investment
with Automated Digital Asset Management
Transform Your Portfolio Management with Akkrue's Institutional-Grade, On-Chain Digital Asset Solutions
Request a Demo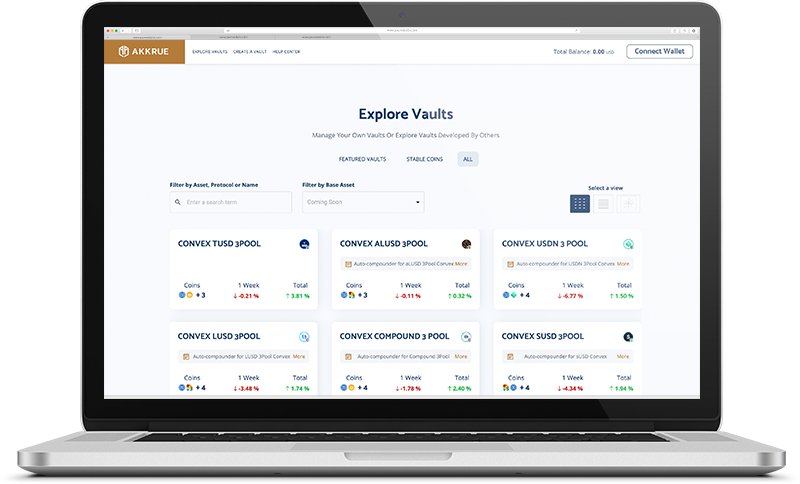 Explore Our Proven Solutions

Redefining Institutional Investment
In a rapidly evolving financial landscape, institutional investors face a myriad of challenges that can impede their ability to effectively manage assets and achieve desired outcomes. Akkrue's cutting-edge platform is tailored to address these hurdles head-on, offering a sophisticated yet user-friendly solution for modern asset management.
Navigating Financial Complexities:
In an environment where financial landscapes are constantly shifting, institutional investors are confronted with challenges that can limit their asset management effectiveness. Akkrue presents an advanced platform, meticulously crafted to navigate these complexities. It's a blend of innovation and simplicity, designed to transform hurdles into pathways for enhanced asset management and optimal outcomes.
Technological and Process Challenges:
The use of Outdated Technology is a significant barrier. Legacy systems limit adaptability and responsiveness, essential for optimizing asset performance in real-time.
Inflexible Solutions exacerbate the issue. One-size-fits-all approaches are inadequate in a diverse and complex landscape, leading to suboptimal performance and unrealized potential. The reliance on Manual Processes introduces errors and delays, hindering swift decision-making critical in a market where timing impacts investment outcomes.
Limited Analytics leave investors in the dark, with insufficient insights to inform decisions, leading to missed opportunities and unmitigated risks. Basic Security Protocols expose investors to potential breaches and data theft, undermining confidence and jeopardizing the integrity of the investment process.
Transforming Challenges into Opportunities:
To effectively navigate modern finance, overcoming these challenges is essential. Institutional investors require innovative, flexible, automated, and secure platforms to transform these obstacles into opportunities for optimized asset performance and growth.
Innovative and Scalable Technology:
Employing cutting-edge technology, Akkrue provides advanced solutions in the dynamic realm of digital asset management, adapting to evolving financial trends to ensure a competitive edge. The platform is designed to be scalable, accommodating the growing needs of institutional investors, ensuring seamless adaptation and performance optimization as market dynamics shift and portfolios expand.
Customizable and Automated Solutions:
Akkrue offers tailored solutions for diverse asset portfolios, enabling institutional investors to customize features to align with their investment strategies. This personalized approach is coupled with integrated automation to enhance efficiency and accuracy in asset management, allowing for quick execution of complex tasks, reducing manual effort and errors.
Sustainable Innovation:
With a commitment to continuous improvement, Akkrue offers a dynamic environment where innovations are routinely integrated. Institutional investors benefit from enhanced features, navigating the evolving digital asset landscape effectively and leveraging a platform where sustainability and innovation are at the forefront.
Advanced Security Protocols:
Security is paramount at Akkrue. Advanced security protocols are integrated to safeguard the assets and data of institutional investors. Real-time monitoring, alongside state-of-the-art encryption, assures investors of the utmost security in every transaction and operation, fostering a safe and reliable investment environment.
Elevating Investment Outcomes
Akkrue's platform, a blend of sophistication and simplicity, is tailored for institutional investors navigating decentralized finance. It offers enhanced decision-making tools and analytics, ensuring portfolio optimization and increased returns. Each feature is designed for ease and mastery in this complex landscape, boosting confidence and growth.
Akkrue offers a suite of features tailored for institutional investors navigating the decentralized finance landscape. The platform facilitates easy development and deployment of structured products with no-code, low-code solutions. Automated, audited vaults ensure efficient and secure asset management.
The self-custodial, permissionless, and composable nature of the platform provides investors with control and flexibility. Intuitive APIs and SDKs enable rapid development and integration of structured products and dApps. OBEX optimizes order execution, minimizing slippage and maximizing profitability through AI/ML-based routing.
Akkrue stands out for its institutional-grade, on-chain, non-custodial, and automated digital asset management, ensuring security and efficiency for institutional investors in the complex world of decentralized finance.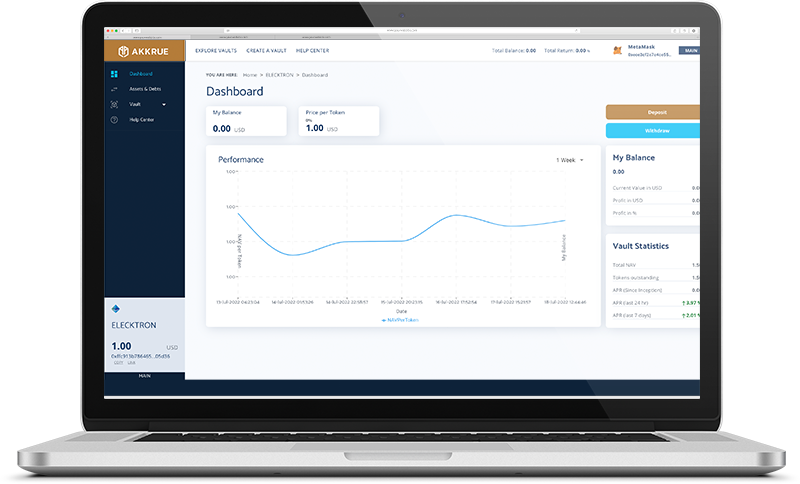 No-Code, Low-Code Structured Products Development
Akkrue's technology stack enables the easy development, deployment, and operation of structured and managed products without the need for extensive coding knowledge. It drastically reduces the barrier of entry for strategists and investors.
Automated Vaults
Institutional investors can benefit from automated vaults for easy and fast deployment, ensuring efficient management of digital assets. The vaults are audited and secure, integrating any protocol using the SDK.
Intuitive APIs and SDKs
The platform provides intuitive and easy-to-use APIs and SDKs, enabling the rapid development of structured products and facilitating seamless frontend and mobile dApp development.
Order Balancer/Executioner (OBEX)
OBEX ensures minimal slippage, especially for larger order sizes, and uses AI/ML for determining the most profitable route for any swap or protocol, ready for cross-chain and bridgeless order routing.
Step into the Future of Finance with Akkrue
Step into the realm of Akkrue, where innovation and efficiency converge, offering institutional investors a tailored experience in decentralized finance.
Schedule Your Personalized Demo Now!